SAOIRSE32
Derry Journal
11 August 2012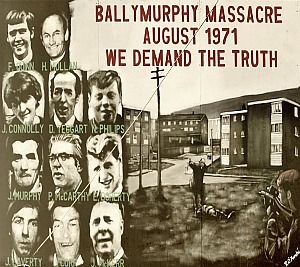 Bloody Sunday campaigners have urged local supporters of their long – and ultimately successful – justice campaign to throw their weight behind a march in Belfast to support the families of the Ballymurphy Massacre.
This week marks 41 years since troops from the 1st Battalion Parachute Regiment murdered eleven innocent civilians in the Ballymurphy housing estate in West Belfast – six months before they moved to Derry and committed the further atrocity of Bloody Sunday.
John Kelly, whose brother Michael was murdered on Bloody Sunday, is organising a bus to the annual Ballymurphy March this coming Sunday, August 12, and there are still seats available for those wishing to attend.
"Just as they wholeheartedly supported us during our quest for truth and justice, it is imperative that the people of Derry now show support for the families in Ballymurphy who are still waging their own…
View original post 355 more words